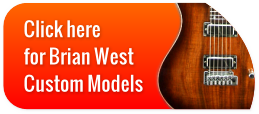 When it comes to Brian West's Custom Shop, the sky is the limit. No challenge is too big or small, and you will find many inspiring ideas when you dig a little further and talk to our team.
You may be surprised to learn that prices start at around $3000 au, the price you could walk in and pay for a flashy copy of something made in a factory somewhere without any of the handcrafted attention….why not for the same price own something unique and world class made right here?
Soon we will have a pamphlet to take you through the variety of options to enable you to create your own wish list of hardware, materials, finishes and styles to create a unique instrument that looks, sounds and plays the way you want.
In the meantime, there are some notes below, and please contact us for more information and we can discuss timbers, colours and finishes, hardware, and properties of the guitar to produce your desired sound.
Building your own guitar?
You can take advantage of Brian West's Custom Shop by getting certain jobs done for you – a pre-slotted neck, a body of your selected timber cut out ready to sand, or the final spray, anything that keeps you building while not needing a large shed full of specialised machines….

We also have tools, parts and advice
A brief guide to choices for your Brian West Custom Built Guitar:
These are hints for some things you can think about, not a list of what is available. The sky is the limit!
General– Guitar or Bass? Left or right hand? Number of strings?
Body Shape – after a certain classic look or a unique design?
Neck – do you prefer a certain contour/depth? What should the width at the nut and the string spacing at the bridge be? Bolt-on, Set Neck or Neck Through? Number of frets?
Fretboard – what is your preferred radius? Frets – medium? jumbo? Fretless? At what height? Which wood for the fingerboard? Finish? Where are the position markers?
Headstock – straight or layback? 2 a side, 3 a side or 6 a side etc? Shape?
Electronics – pickup choices? Control Layout – how many volume pots? Coil splitting? Switching? Active or Passive? Input jack placement? Much to choose from here……..
Hardware – which brands? What finish? End pin? Straplock? Nut material? Bridge/saddles material?
Wood Choice – for the body? For the neck? For the fingerboard? Laminates?
Appearance – Gloss finish? Translucent? Neon? It's your guitar…..Scratchplate style and colour? Knobs? Pickup covers?
Talk to us at Fretco for all the details on your custom built instrument!
Please read our conditions for custom orders:
Deposit of 1/3 of total price to be paid before work commences
Balance of total due on completion
Custom instruments not collected within 60 days of completion may be sold
Customers who choose not to pay the final balance on completion will be refunded their deposit less 20% service fee only after the instrument is sold
The quality is world class, right here in Adelaide. Take a closer look!